VACATION WITH US THIS SUMMER!
It's almost time to kick off our 22nd year of summer fun. If you're a returning family, welcome back. If you're new to the Camp Mirage experience, we're so happy you found us!
Our mission statement: Camp Mirage provides the feel, the excitement, and the camaraderie of an overnight camp, in a day camp setting. Pick your kids up at the end of the day blissfully happy, inevitably tired, a little dirty, and ready to do it all over again the next day.
Our program is designed for you to customize to suit your needs. Why pay for the whole day if you don't need it? Do you want only one week? No problem here! Need care all summer? You've got some lucky kiddos.
Whether you're looking for an exciting alternative to daycare or you want to give your 12-year-old a break from video games, we have options for everyone. Our camps are sold by the week. Register for one week, several weeks, or piece together the entire summer week by week. All on-site camps are from 9 am-noon. But here comes the beauty of it… add on as much pre-camp or after-camp as you want at an hourly rate! Drop off as early as 7:30 am and pick up as late as 5:30 pm. We don't charge for the time that you don't use. Click here to learn more.
Now, this is our best-kept secret! Register for at least one week this summer and use our after-camp as a drop-off service any day and anytime. Consider us your personal (SUPER FUN) nanny! Click here to learn more.
BIG NEWS!
OUR JUNIOR CAMPERS HAVE THEIR VERY OWN CAMP!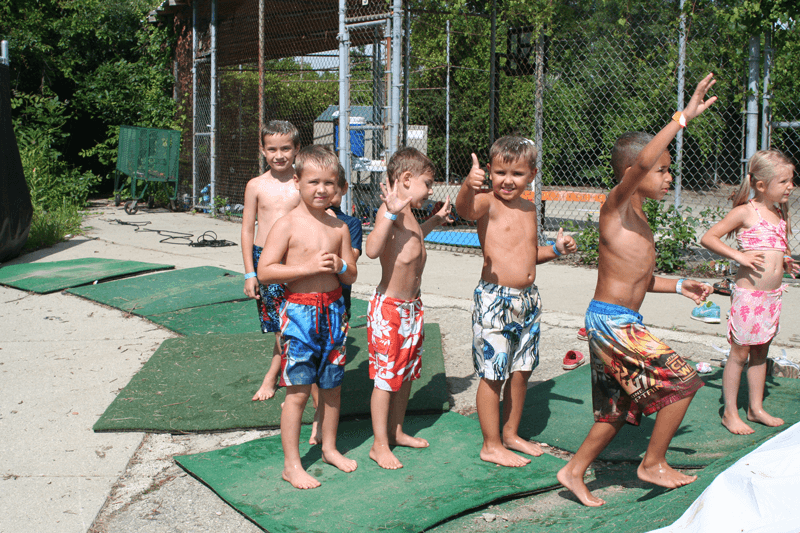 You heard us right. The big kids, aka 2nd grade – 7th grade, now have Camp Mirage Five Mile all to themselves while the Junior Campers, aka preschool through 1st grade, will be OWNING the North Territorial location.
Why did we make this decision? North Territorial has a much better layout for our younger campers. We have wooded trails, basketball courts, bikes, soccer fields, a playground, water slides, and gaga pits. The BIG PLUS is the indoor art room, music room, lego building room, indoor gaga, gaming room, indoor canteen, and indoor bathrooms! Dividing the camps also lets our oldest Juniors (age 5 – 7) have their very own big kid camps instead of theme weeks. This will be HUGE for them.
Do you have a Junior camper and a big kid and are concerned about drop off and pick up at two locations? Don't worry! We have transportation between the two camps.
Shuttle service is available for sibling campers between our two Plymouth locations. Drop off and pick up location is our North Territorial Camp. If you have siblings attending both locations, this is a great option. We know there may be mixed feelings regarding dividing the locations by age; please be assured that this was well thought out. This is an excellent opportunity to provide a much more enjoyable and customizable experience for our kiddos. Our bus will do two shuttles in the AM at 8:15 and 8:45 and two shuttles in the PM at 3:15 and 3:45. Additional pre/ aftercare is available outside of these times as well. Our locations are 8 minutes away, and our bus has seat belts.  Pre-registration is required.  An email will be sent out in June with more details.  Please let us know if you have any other questions.
GOOD MORNING CAMP MIRAGE!
We start each morning with a bonfire. Songs, stunts, stretches, and silliness wakes everyone up. Then we divide into individual camps…44 options this year! All camps are divided by age and carry a low camper-to-counsel ratio, so everyone gets that personal attention. Trips to our awesome canteen, GAGA tournaments, miniature golf, water slide, and mud pit activities pepper our days. This is the stuff that summer memories are made of!
It's our mission to treat every camper like family. Our amazing counselors not only teach and guide our campers, but they also work on self-confidence, socialization, and independence. Our campers leave here feeling like Camp Mirage is their camp. Their family. Their home away from home.
Arrange your child's entire summer, a few weeks, or even a one-week experience with us. We hope you are as excited because we will make this summer the greatest yet. Welcome to our Family!
40+ PROGRAMS
One Epic Summer!